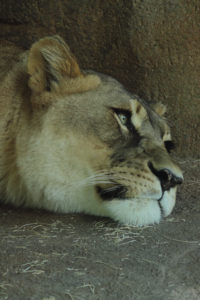 I have always had an affinity for tigers, so I suppose it wouldn't be unusual that another big cat caught my attention.  I love their fierceness, their strength, and their stunning eyes.  When I saw her, that is what I wanted to capture.  There is a haunting sadness to her, as if she's longing to run free*.   She takes my breath away with her beauty.
So far since using the camera I got myself for Christmas, this image is one that I am actually proud of.  I knew when I took the shots that these were the ones I was most wanted to see because I just felt there was something about them.  The only editing I did was to crop it.  It was taken at Brookfield Zoo on December 26th, a relatively warm day (50 degrees) for Chicagoland winter.  Jason took me and our friend April out to practice taking shots –  we both got the Canon EOS Rebel T6.   He's had his camera (Canon D7) for years and really knows his stuff.  I am impressed with what he taught us and how much work there is involved, yet at the same time, it was really exciting to put it into practice.   I've taken a ton of pictures with my phone, but none are as rewarding as the ones I took with my new camera.
*I support the zoo, but I don't like that their area is so small.  It's an inner battle I have with myself because I know a lot of zoos do good work and are protecting and saving many of the animals that live in them, but I wish they could be free and not be hunted.  Hopefully one day this world will let that happen….